Hidden Technology's latest portable surveillance system, the HV3, has recently been used to great effect by an investigation firm attempting to prove benefit fraud.
By quickly and covertly deploying the HV3, the firm was able to acquire footage that will prove to authorities that the suspect, who is allegedly incapacitated and claiming benefits from the government, was in fact working as a labourer whilst continuing to claim.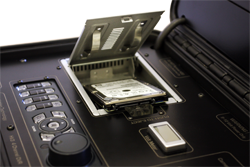 The HV3 supports up to 4 cameras simultaneously recording, and allows users to view recorded data remotely or via the built-in monitor using intuitive playback controls. For ease of data transfer/storage, the device can be fitted with a removable hard drive, allowing users to rapidly switch out storage devices with minimal disruption to video recording.
If physical access to the deployed HV3 is limited, or remote monitoring a mobility are important to your operation; the HV3 can be accessed via IP using an in-built 3G modem. This will allow users to view live data from a web browser, or even using a free mobile application.
In the deployment mentioned above, the HV3 was used with 2 day/night cameras recording continuously, and without the use of a 3G modem. The power drain was recorded at 1.2A p/hour. Using a 220A gel battery, this meant 183 hours (1.5 weeks) of recording time. Note: power consumption is affected by temperature.
For further information on the HV3, please visit our Audio Visual Products page. You will need to be a registered user to view product information.