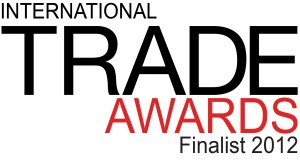 Hidden Technology Systems International were shortlisted for The International Trade Small to Medium Sized Company of the Year Award at this year's International Trade Awards 2012. Now entering their fifth year, the International Trade Awards, sponsored by American Express Foreign Exchange Services, are the only UK wide business awards to exclusively recognise the excellence achieved by the UK's leading exporters and importers. Despite the challenges posed by current global economic conditions, UK companies are still competing on the International stage and the 2012 International Trade Awards celebrates these ventures and successes. Minister of State for Trade and Investment, Lord Green, who introduced last year's gala lunch and awards, said that "exporting is 'not just good for Britain', but that it is 'essential for Britain'."
Chris Nyland, International Marketing & Special Products Director of Hidden Technology Systems International said, "as a relatively small privately owned British company, we are delighted to have been shortlisted for the prestigious International Trade Awards 2012. We design, manufacture and supply very sophisticated intelligence gathering equipment around the globe that is used to disrupt serious crime and terrorist activity and protect high value assets and VIP's.
"For obvious reasons we are not able to advertise the exact nature of the capability of the solutions being used. However, now having  been shortlisted for an award in International Trade, we feel comforted that our efforts and success not only in our export business but in helping to make the world a safer place for all, have now been recognised in such a complimentary manner."
This year's awards were held at The Brewery on 10th December where a panel of industry experts, including Parveen Thornhill, Regional Director for UKTI London, Lesley Batchelor, Director General of the Institute of Export & International Trade, Allan Biggar, CEO Xperiamedia, Rocco Magno, General Manager FX IP at American Express Services Europe Limited and Michael Wilson, editor and entrepreneur, announced the winners.
Applicants were competing in four categories, the Small to Medium Sized Company of the Year Award, Excellence in Innovation Award, New Frontiers Award and Company of the Year Award.
"The standard was incredibly high, particularly for the main award where the judges were torn between some very impressive entries. There were some very difficult choices to make," said Rocco Magno.
"It is pleasing to see such a high standard across the board as it shows that there is real hope for the economy, and that there are a huge number of excellent businesses out there."